What's a Product Manager?
DISCLAIMER!!!
As you read this post, I want to clarify that I am still maturing and growing in this field. I am a newbie that's learning on-the-go what Product Management is and is not.
I have interviewed and worked with dozens of Technologists and Product Managers. I hope to share what I have been learning from them and my own research.
So…what's a Product Manager?
Product Managers (PM) are the individuals that birth and groom technological solutions to business' and users' problems. They're responsible for the success of their product or feature. Their skill set enables them to touch many facets of their organization: marketing, sales, customers, and developers. With these relationships, they will have to balance the requests and advice from execs, customers, engineers, and other teams.
There is a diversity of product managers with different qualities, duties, and objectives. There are no two PMs alike. Depending on their organization's size, needs, market, and the industry they are competing in, the product manager could be wearing multiple hats (sales, customer success, and or web developer).
Typical Duties of a PM
Prioritizing feature request

Collaborate cross-functionally

Organizing feature request within a backlog

Establishing metrics and success criteria for the features

Negotiating and creating timelines for feature request (product roadmap)

Writing requirements and specifications for features (PRDs)

Creating development tasks

Conducting usability interviews and tests
There are 4 questions that each PM and his team must answer during the product development process.
What are we building? – Designer's primary responsibility
Why are we building X? – PM's primary responsibility
How will we build X? – Engineer's primary responsibility
When will we build X? – Determined amongst the team
Although PMs aren't solely tasked with answering each of these questions, they still must ensure that these building blocks are finalized. The great thing about being a PM is that they never work alone. They normally have a few designers and engineers to take on specific tasks to complete new features. And this what many PMs enjoy most. Product Management enables individuals to create features and products that will impact their customers and organization.
What are the core product manager qualities?
Many assume that the product manager is the "idea person," yet, that couldn't be further from the truth. Every product manager seeks to hone four core qualities. These qualities operate like checks-and-balances to ensure that their product provides a massive impact.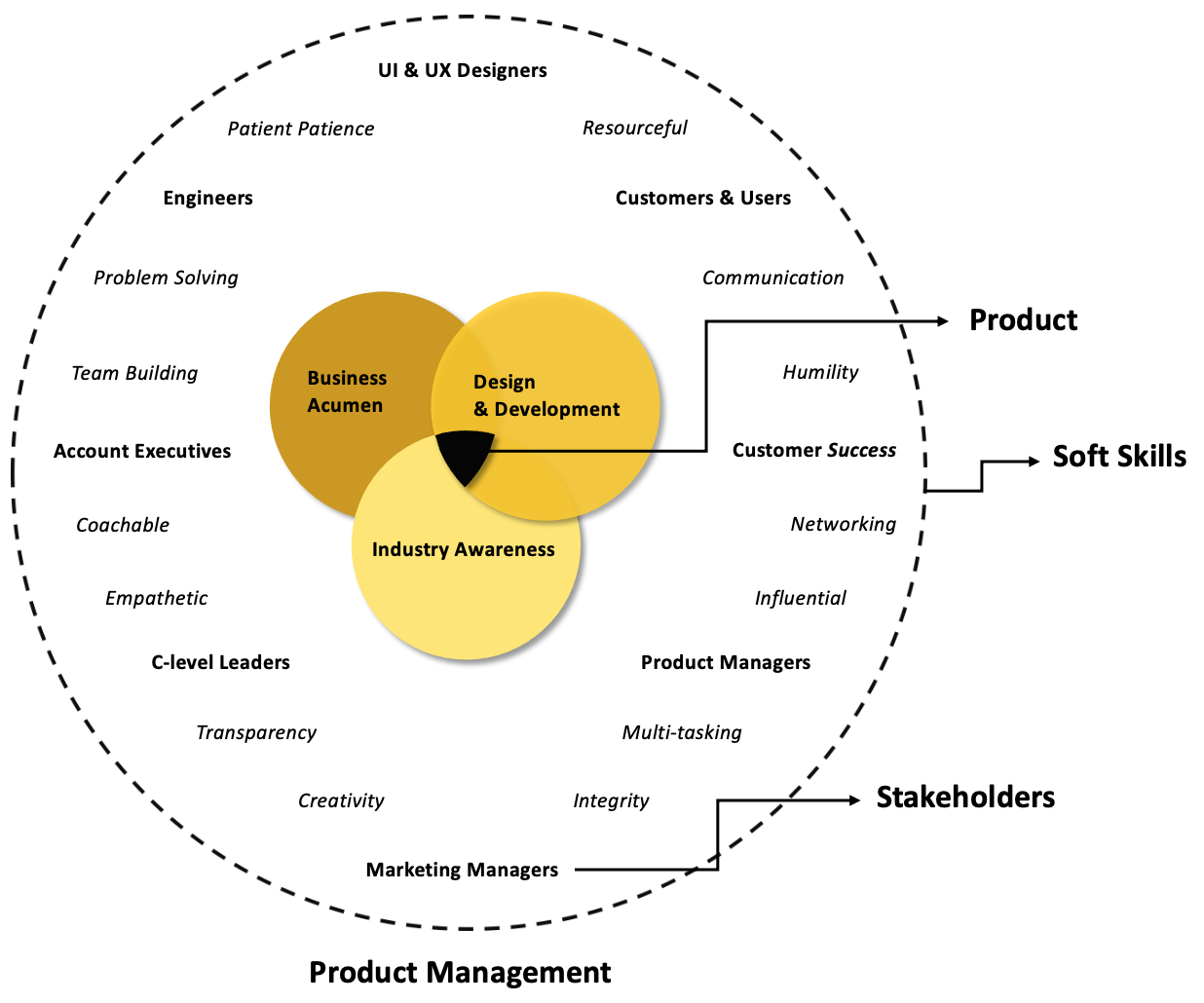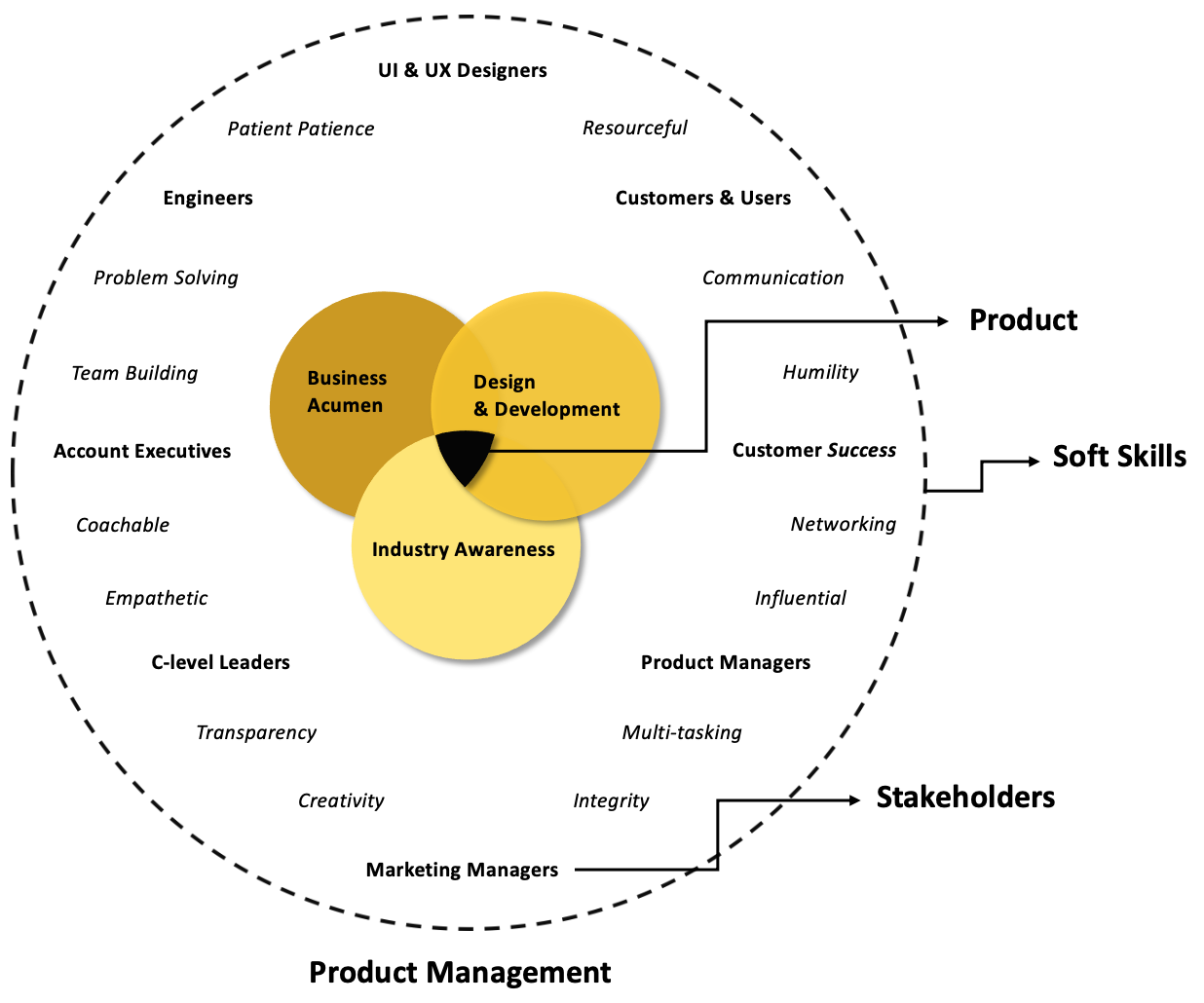 Industry Awareness
For most tech-entrepreneurs and intrapreneurs (product managers), before building out a product, you must know which market and industry you are competing in and which groups of people you are serving.
Numerous product managers stay in tune with what's going on in their market by reviewing Techcrunch and The Verge resources. PMs with industry-awareness have an intimate vision for their product's future. Product Vision is having a deep understanding of your product's market to discern:
What are my product's constraints and use-cases?

Who are my customers; what are their pain-points?

Which companies within my market own market share and why?

What's my go-to-market strategy?

How will I establish or reinforce my product's market fit?
Business Acumen
A Product Manager possessing a business aptitude is aware of its organization's financial architecture. Before the developers begin cooking the product in the lab, PM will ask the hard questions like "how are these new adaptations of our product going to help us increase adoption, gain new users, increase revenue, and why is that important?" This helps to determine if the product is successful or not. Metrics refers to the "WHY does this product need to be created and why now."
Product Managers are obsessed with agile methodologies – building out the leanest version of their product (MVPs); prioritizing user stories enables them to reach their goals while optimizing their resources.
"Estimating the net result of the product's impact (the product's value provided to users and the organization) divided by the product's cost (the company's $ investment and resources, and development team's time it takes to build out the project) helps prioritize which products should be built over others."
For example, let's say your team is building out a new social feature that's expected to drive revenue. Knowing how to remain financially astute helps ensure that you are constantly evaluating your product's success from a revenue standpoint. This will help account executives, business developers, and marketing teams better articulate your products' value proposition, being that their goal is to bring about more revenue.
Design & Development
Product Managers having an affinity with technology is highly reflected in how much their development (engineering and design) team trusts them. Most incoming PMs are technical in some capacity. They are familiar with building out product development cycles, creating websites, writing code lines, or interacting with software frequently.
Some tools product managers and their teams work with are adobe for UX designers, visual studio for engineers (Java or Python), and project management tools like Jira for the entire team.
This is what wireframing looks like. Designers and PMs create skeletons of their concept to visually demonstrate to other stakeholders the design and functions of their up-and-coming product releases.
Product Managers with experience working with technology help them better communicate with other engineers and designers because they know the constraints of their team's work and tools.
One of the biggest issues I hear from designers is that they are often tasked with complex objectives and unrealistic time-expectations because PMs aren't familiar with their design tools' parameters.
I was listening to a conversation Gayle McDowell was having, and she mentioned that "…aspiring PMs cannot say that they love technology if they have never written a line of code". I know that there are plenty of successful PMs with no development experience. However, I took Gayle's comment to heart and felt convicted. If I desire to work with engineers and designers, I need to get acquainted with the tools and processes they are using to understand better how they think to discern their daily pain-points.
Soft Skills
Like emotional intelligence, soft skills help you have more impactful relationships within the workplace.
To be a fruitful product manager, possessing business acumen, industry awareness, and technical aptitude is not enough. As a PM, you are constantly having hard conversations and networking with other teammates to ensure product launches deliver on time.
Some believe that it is impossible to learn soft skills: coachable, kindness, and work ethic. Yet, I would disagree. A specific skill may come naturally to others, but you can still learn it. The byproduct of soft skills is teammates knowing that you, as the PM, are always looking to grow and mature, which builds camaraderie within the team. In reality, for every product manager, there are a handful of phenomenal designers and engineers that make a PM's job easier. This is why it is super important that PMs remain coachable and live in a state of humility.
What's the career trajectory for a PM?
Since our economy is growing technologically, and PMs digitalize an organization's business processes, there will always be a need for a PM. A PM's skills and experience will remain transferable because their duties impact decisions in nearly all business levels: marketing, sales, engineering, and customer success.
On average, many PMs matriculate through their organization well. Google's Sundar Pichai and LinkedIn's Ryan Roslansky started as PMs at their respected companies, and now they are the CEO. Of course, results will vary. But, like any other career, if you believe in your company's vision and product, you are more willing to grow within your organization.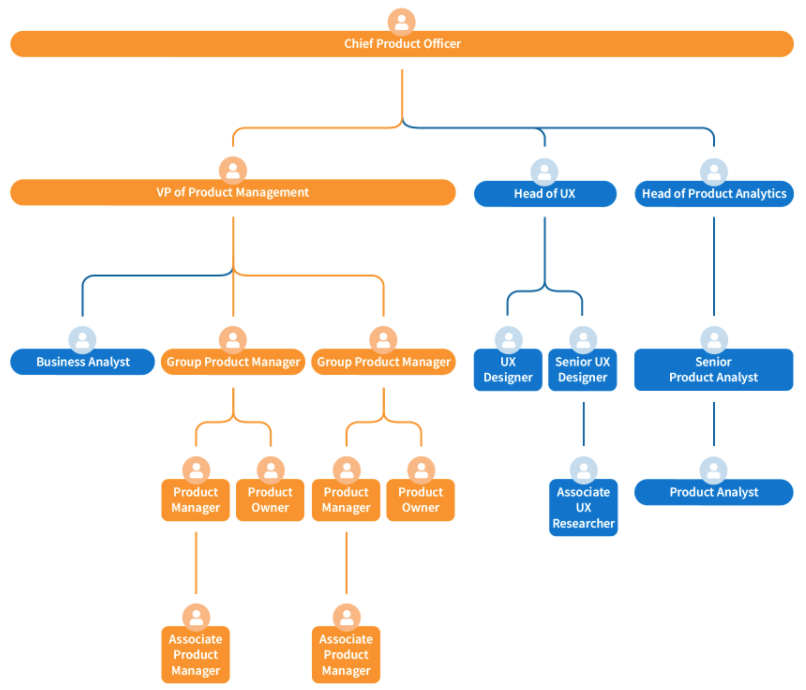 d
This is an example of what a product structure can look like within a large tech company. In many start-ups, you will not see a sophisticated structure such as this. At different levels within the product org structure, leaders at times are always directly or indirectly influencing product decisions. Today, we have more product-related roles than we did 10 years ago hence why this org structure is so large. As companies continue solving complex user needs, the more diverse product roles become. In other words, the greater the diversity of product roles, the higher the price of entry.
Barriers to entering into product management
Product Management is one of the most difficult roles to break into. Product Management isn't normally taught in class, so getting your bachelor's in PMing is nearly impossible. Many of the product managers I've talked to have explained their journey into product management similarly.
"I started out as a customer success lead and I developed a passion for making our product work easier for our customers…and it was downhill from there haha."
As a company acquires more users and customers, the need for a product manager becomes more apparent. The product manager/engineer ratio is roughly 1:5. In theory, after the 4th engineer has onboard, recruiters begin looking for a product manager to hire.
Why? Product Managers are expensive. On average, a PM's salary can outpace an engineer's. Their pay can typically range between $70-300K/year, depending on the company and their location.
This ratio contributes to the competition towards breaking into product management. Frequently, you have hundreds of aspiring product managers (new pivoters and recent college grads) applying for associate product manager roles. But those same roles are also available to the other 20-thousand more experienced and well-established product managers. I've seen many APM roles that required 2-3 years of PM experience and PM roles that required 5-7 years.
There's less room for error for recruiters and hiring managers when acquiring a PM. Even if the APM role does not require PM experience, they are accountable for taking the most qualified candidate. Even as I write this, I fear that it will hurt me in the short-run. Yet, I would not want it any other way. I like the competition. It forces me to be honest about my own skill-set and seek new relationships with other aspiring PMs.
So far, I've learned that Product Managers:
Live at the center of 4 core qualities: Business Acumen, Design/Development, Industry Awareness, and Emotional Intelligence

Can at one moment manage the communication amongst sales, marketing, HR, and legal, while still having to conduct some UX interviews. 

Decide on what features to build, what metrics to achieve, and which kind of customers' / users' pain-points to solve

Are responsible for the success of their product or feature.

And are obsessed with developing new software systems and processes that will increase their customers' or users' well-being.
What's next?
Now that I've shared with you my learnings on what I've found to be Product Management, I would love to hear your thoughts. Would you like to add anything? Are my findings or opinions off somewhere? Leave a comment below or connect with me via LinkedIn.
And next, I would love to show you how I am breaking into Product Management. Stay tune!